罗迪克——不想只做表演
来源:纽约时报
在成功进入男子网球对抗赛之后,罗迪克现在面临更大的挑战——赢得舆论的胜利。但是,第一步,他将与周三在1/4决赛中迎战澳大利亚选手Lleyton Hewitt,该选手在上级比赛中臀部受伤并接手过手术。虽然罗迪克今年只有26岁,但他已经有10年的网球职业选手经历。他得到的分数是失去的分数的两倍之多。"到目前为止,我对自己的表现都很满意,但是顾虑还是存在的"罗迪克这样说道。
Roddick Wants to Do More Than Show Up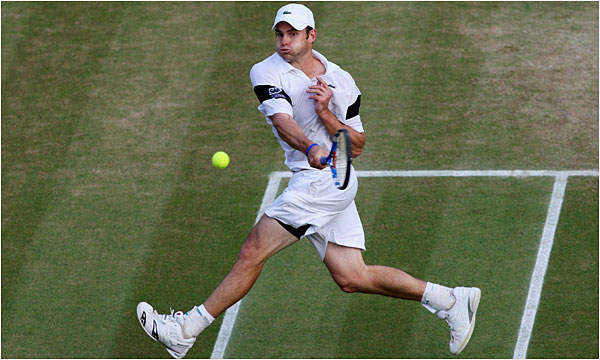 WIMBLEDON, England — After succeeding in working his way back into the conversation at the top of men's tennis, now comes the harder part for Andy Roddick: winning the argument.
He is focused and eager, even if the odds (可能性)are not in his favor with his nemeses Andy Murray and Roger Federer still in contention (竞争)at Wimbledon and still able to return Roddick's powerful serve much more consistently than the average opponent(对手).
But first, there is a quarterfinal match (四分之一决赛)Wednesday with Lleyton Hewitt, the combative(好斗的) and resurgent (复兴的)Australian who has been trying to rejoin the conversation, too, after having hip surgery last season.
"It's a fight; you know everything's a fight," said Roddick, the only American man in the final eight. "Lleyton's not going to give you anything. You know, a lot of guys you can get on top of. You can get on top of their game. You can look for holes in it. Lleyton doesn't really have a lot of holes. He's pretty solid off both sides. He volleys well. You're definitely(肯定) not going to get on top of him mentally. He's as sound there as anybody out there."
Roddick, who is 26 but has been a professional nearly a decade, has been quite sound himself during this eventful season on and off the court.
He has a new coach, Larry Stefanki, and a lighter frame by 15 pounds after altering his diet and tinkering(胡乱地修补) with his already-intense training regimen(养生法). He was also married in April to the model Brooklyn Decker, who has been commuting from London for work assignments. She was cheering in the stands Monday when Roddick defeated Tomas Berdych of the Czech Republic in straight sets in the fourth round.
But contentment in his private life has not yet led to contentment in his public life. What Roddick wants, above all, in that domain is another Grand Slam singles title to go with the United States Open he won in 2003.
"He's not satisfied," Stefanki said. "He's looking for ways to get better at his level. The guy has been one in the world and won a Slam. He wants to win another. What's it going to take?"
Hiring the extroverted(外向的) Stefanki at the end of last year was part of Roddick's attempt to answer that question. Stefanki, 51, is a fixture on the circuit and has worked with a wider variety of personalities (and nationalities) than any other leading coach in this era, beginning with John McEnroe in the final stages of McEnroe's career and continuing with the prickly (难处理的)Marcelo Rios of Chile, the moody(喜怒无常的) Russian Yevgeni Kafelnikov as well as more congenial(意气相投的) types like Jonas Bjorkman of Sweden, Tim Henman of Britain and, most recently, Fernando González of Chile.
"I think that list shows a lot about Larry's personality and ability to adapt as a coach," said Darren Cahill, the Australian who has coached Hewitt and Andre Agassi. "Larry clearly has an ability to look through different players' eyes and get the best out of them. He's done that extremely well over the last 20 years."
That range of experience was attractive to Roddick.
"I think it's good, because you know he's exposed to big matches and big-time kind of personalities, and this, that and the other," Roddick said of Stefanki. "What intrigued me was the fact that he's worked with lefties, righties, guys who come in, guys who stay back, absolute head cases, guys who are quiet on the court. There's a lot of variety there, and he's had success with each one.
"The fact that he's American also helped. Obviously, you've got to live with these people. They are like your family, so that was big.
"We'd always gotten along in the past. I've actually always gotten along with the people he's coached, too, whether it's Fernando or Tim."
Stefanki said he and Roddick had worked on Roddick's footwork and backhand (反手击球)technique, trying to improve his movement to that wing and bring his contact point in closer to his body. Stefanki said the emphasis had been on three primary areas: Roddick's returns, his net play and his ability to do more with the frequently weak retorts — Stefanki calls them "dead balls" — to his powerful serves.
"That's what he's focused on the last six months, and that's what's going to win the U.S. Open on a faster surface and Wimbledon," Stefanki said.
After four matches at Wimbledon, the numbers are encouraging. Roddick is putting 71 percent of his first serves into play and winning 84 percent of the points when he does.
He has also won nearly twice as many points than he has lost when he has come to net and has nearly three times as many winners — including 96 aces — as unforced errors.
"So far I've been happy with the way I've been going here," Roddick said. "That's probably my concern."
Considering who still lies in his path to a surprise victory, concern sounds appropriate.
Keke View:Best wishes for the handsome tennis player.
来源:可可英语 http://www.kekenet.com/read/200907/76416.shtml
本文地址:
http://www.mlbsoup.com/index.php/2020/06/01/%e4%bd%93%e8%82%b2%e5%a4%a7%e4%b8%96%e7%95%8c%e7%bd%97%e8%bf%aa%e5%85%8b/
关注我们:
请关注一下我们的微信公众号:
扫描二维码
,公众号:aiboke112
版权声明:
本文为原创文章,版权归
asiaplay33
所有,欢迎分享本文,转载请保留出处!