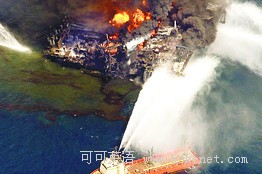 【英文原文】
Blast Jolts Oil World
The Coast Guard said Wednesday that it was still searching for 11 people missing after an explosion and fire at a oil-drilling rig in the Gulf of Mexico that left three critically injured.
The rig, about 41 miles off the Louisiana coast, is owned and operated by Transocean Ltd. and contracted to British oil major BP PLC. A spokesman for Transocean said most of the 126 people on board were safe. The Coast Guard said Wednesday afternoon that 11 were still missing. The rig was still burning and listing.
It was unclear what caused the blast, which happened at around 10 p.m. Transocean Vice President Adrian Rose said crews were performing routine work before the explosion and there were no signs of trouble, the Associated Press reported. Tuesday. Initial indications show that terrorism wasnt involved, the Coast Guard said.
A spokesman for BP said the company had six personnel on board the rig at the time of the incident, and all were safe. The rig, the Deepwater Horizon, is located in an area known as the Mississippi Canyon.
Deepwater Horizon is a semisubmersible, effectively a floating platform that has small thrusters to hold it in place above a well. It was carrying out exploration drilling on BPs Macondo prospect in the deepwater Gulf of Mexico. BP said Transocean was carrying out the work on BPs behalf and was responsible for safety on the rig. Its staff on the facility work with Transoceans drilling team to make sure the work is done to BPs specifications.
BP, which owns the rights to produce oil and gas from the area, filed for a permit April 16 to temporarily abandon the well it was drilling at the site of the explosion, according to the Minerals Management Service, an arm of the Interior Department that oversees offshore drilling. It wasnt clear from the services data if the government had approved the permit.
A BP spokesman says it had recently wrapped up exploration drilling. It is standard practice, the spokesman said, to file such a permit. The rig would then be moved to another location while BP spends time analyzing and interpreting data.
来源:可可英语 http://www.kekenet.com/read/201004/102161.shtml
本文地址:
http://www.mlbsoup.com/index.php/2020/06/11/%e5%a2%a8%e8%a5%bf%e5%93%a5%e6%b9%be%e9%92%bb%e4%ba%95%e6%9e%b6%e7%88%86%e7%82%b8%e4%ba%8b%e6%95%85-11%e4%ba%ba%e5%a4%b1%e8%b8%aa/
关注我们:
请关注一下我们的微信公众号:
扫描二维码
,公众号:aiboke112
版权声明:
本文为原创文章,版权归
asiaplay33
所有,欢迎分享本文,转载请保留出处!